Salesforce: The untapped potential for businesses
One of the big questions businesses should be asking themselves is; can we stay competitive without an omnichannel platform? The short answer is no. A slightly longer answer is: probably not. The ability to keep the data in one place will be a crucial factor in the future competitiveness of businesses and their ability to grow.
One integrated platform
We are seeing an increasing number of big brands turn to omnichannel platforms – also called 'digital ecosystems'. They have assembled their entire digital presence - more or less - on the same platform, simply to gather their data in one place, and exploit the potential of having a much more complete image of their customers. And that's something we're going to see much more of.

Year after year, customers' expectations for services increase, which means that companies demand more from their software and the handling of data. But most companies do not exploit the enormous potential of using data to anticipate customer needs. Sure, we're experiencing an increase in companies that have begun to work with personalization – but the vast majority of them do so through tools that do not work together. This makes it difficult to get the full picture of the customer and even harder to ensure integrated communication across channels. And that's exactly where omnichannel platforms like Salesforce can help you.
Salesforce
Salesforce is not just an information-handling system. It's a platform that integrates all of the digital tools you can use to enhance and shape your customers' experience. It integrates, among other things, sales, service, and ecommerce and all the data behind. With all the data in one place, you get a comprehensive overview of new and returning customers, to create seamless user experiences and targeted and personalized communication.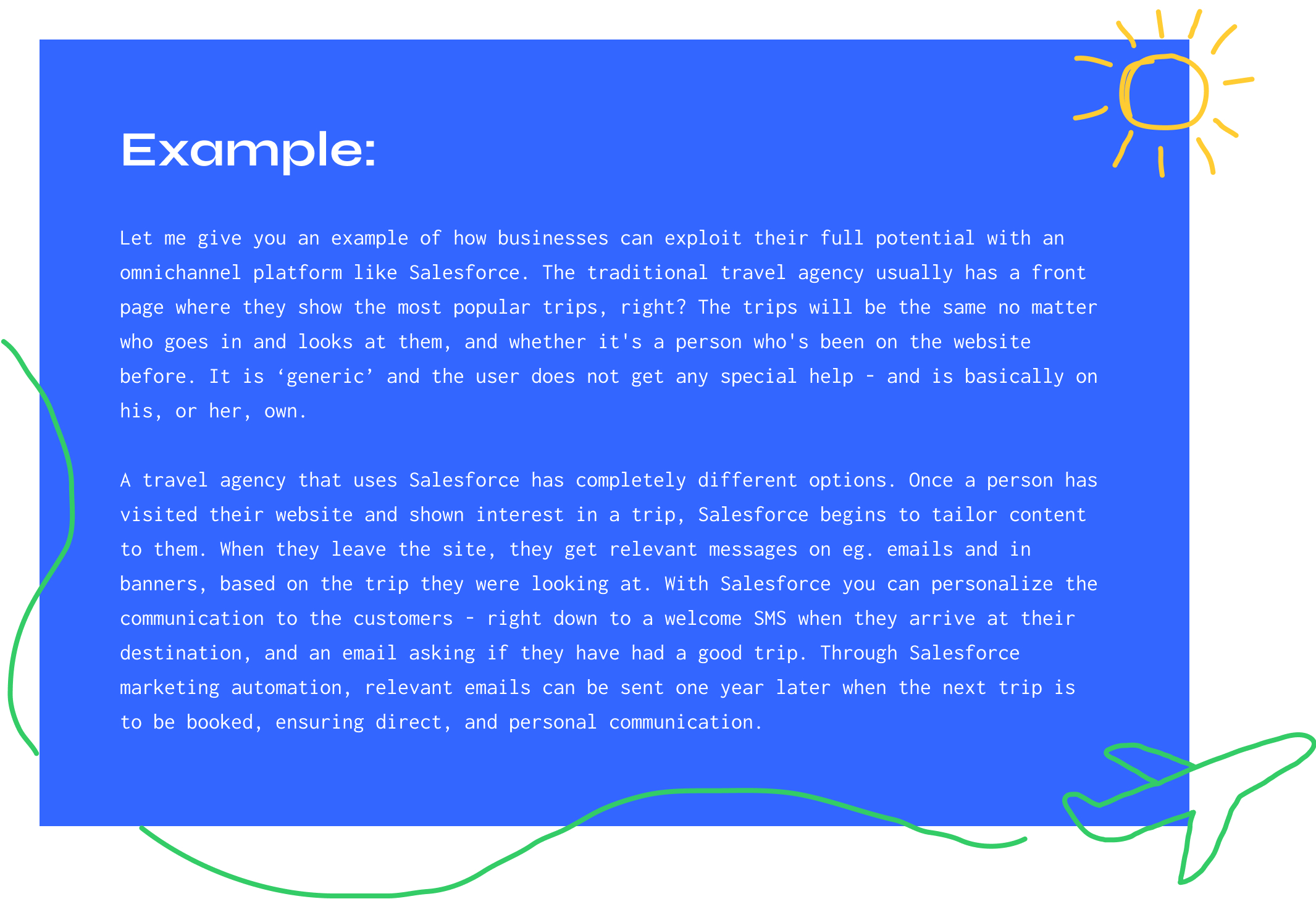 Your preferred Salesforce 
Partner
We have, as one of the select few, entered into a strategic partnership with the world's leading omnichannel platform: Salesforce. Salesforce has been named by Gartner as the most visionary company to help large enterprise companies improve their use of data.

In order to create good user experiences, it makes sense to integrate the systems across many channels. The systems MUST work together across ecommerce and marketing cloud - with personalization, email marketing, and automation. This is where Adapt can help. Our focus is not only on helping you onto one of the world's best Customer Success Platforms. We also want to guide you with the more advanced parts of Salesforce, so you can activate your data and create a strong and seamless user experience and - not least - customer journey.